Customer Reviews
12/17/2020
Stephen U.
United States
Neat and nice
Great took a little longer to get here but the material and colors are great
11/02/2020
Jane G.
United States
Amazing!
I bought these for my husband and he loves them! He even gave one to our son. For normal sweat, these shirts are fantastic for hiding sweat. On a really hot summer day when you are working outside, there is a point where the shirt just can't take any more but the sweat is dispersed and still doesn't have weird sweat spots. Very happy with the purchase!
11/02/2020
CARLOS E.
United States
Really Works!
These shirts fit well and they really work! I work in them and jog in them!
10/28/2020
Ori
Israel
Amazing
I've got a Compensating sweat and these shirts are amazing.
10/27/2020
Shobu F.
United States
Pure Comfort and Peace of Mind
These are easily the most comfortable T-shirts I have ever worn (I purchased a 4-pack). Here's why: The material is thicker than what you would expect, but feels much cooler, off the bat, which makes it feel lighter than a regular t-shirt somehow. When I sweat, (I sweat a lot), I don't feel gross or look gross. All colors are awesome and have not faded after dozens of washes. Will buy more!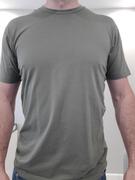 Magic under the hood
Neat® fabric is sweat-activated.
Reliable down to the last drop
Hides sweat
Sweat-activated fabric stops moisture from escaping to the outside of the shirt. 
Faster drying times
Maze-like fabric system can diffuse sweat like magic.
Reduces stickiness
Sweat is redirected away from the body to keep parts of the shirt completely dry.
Neat® Fabric
Neat® is a patented blend of fabric and technology that protects you from looking sweaty from the inside out.
Neat® vs.
Like wearing a soft cotton t-shirt with sweat-activated superpowers..