Customer Reviews
10/28/2020
Ori
Israel
Amazing
I've got a Compensating sweat and these shirts are amazing.
10/27/2020
Shobu F.
United States
Pure Comfort and Peace of Mind
These are easily the most comfortable T-shirts I have ever worn (I purchased a 4-pack). Here's why: The material is thicker than what you would expect, but feels much cooler, off the bat, which makes it feel lighter than a regular t-shirt somehow. When I sweat, (I sweat a lot), I don't feel gross or look gross. All colors are awesome and have not faded after dozens of washes. Will buy more!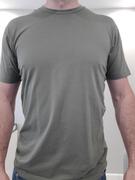 10/27/2020
Doug H.
United States
My Must Have T-Shirt
Love love love this t-shirt. I have perspired (aka - sweaty) my entire life and just prayed it didn't embarrass me too much. Not always successful. :-( Now with Neat I can run around on even a hot day and when i start to sweat I don't have to worry about covering it up. what a relief.
10/27/2020
CS
United States
Didn't believe it
I am a picky shopper and hate looking sweaty. I was a bit apprehensive when I first ran into Neat, and bought them to test them. I gotta admit: they work amazingly well. Very high quality garments, they fit me perfectly (I am a big guy- 6' 4", 220lbs and XL is perfect). The shirts don't shrink much at all after washing / drying in high heat. I wish they made dress shirts and more colors. Highly recommend them! ps: see images of belly sweat on the inside, no-show on the outside
Excellent
It's hard to shop online. It's hard to find authenticity in advertisements. I've went through a number of solutions (including other sweat-proof undershirts) before coming here. I won't lie, the price almost threw me off. It's a tough price, but man, the very least I can say is that the product isn't phony. Good material, and most importantly it did the job, it covered the sweat. Covered my back, not like the other ones which only act like armpit towels, but do no service to the rest of the body. Well done, guys.
Magic under the hood
Neat® fabric is sweat-activated.
Reliable down to the last drop
Hides sweat
Sweat-activated fabric stops moisture from escaping to the outside of the shirt. 
Faster drying times
Maze-like fabric system can diffuse sweat like magic.
Reduces stickiness
Sweat is redirected away from the body to keep parts of the shirt completely dry.
Neat® Fabric
Neat® is a patented blend of fabric and technology that protects you from looking sweaty from the inside out.
Neat® vs.
Like wearing a soft cotton t-shirt with sweat-activated superpowers..